Interior Renovation Singapore
Interior Renovation plays an essential part in shaping how people experience the space where they are in. In terms of house renovation in Singapore, the key is to make the available space functional and practical without compromising on style and aesthetics. While for office renovation, the design should be one that sparks inspiration and creativity which promotes motivation and productivity. At i-Chapter, we pride ourselves in delivering distinctive and individual office interior renovation services for every business. Our team of interior designers are exceptionally proficient in transforming your vision and ideas into reality, giving you the best interior renovation services in Singapore so that your business can continue to scale.

812C Choa Chu Kang Avenue
Condo | 03 March 2019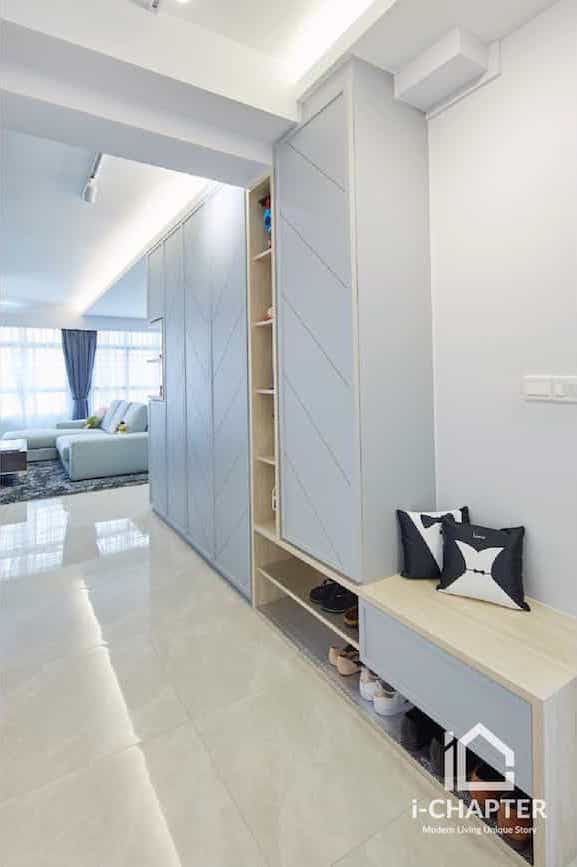 Interior Renovation in Singapore Done Right
Our multi-disciplinary team of interior designers are highly-skilled professionals who listen to your needs, prioritise your needs and requirements, and execute our mutual creative vision to perfection. We offer a wide range of comprehensive and personalised interior renovation services, be it for homes or commercial spaces. We are best known for involving our clients in the creative process. We believe that every space has its own story to tell, which is why we strive to bring out their uniqueness through our designs. Be it for office spaces or residential units, our genuine, authentic, and stylish interior designs are created to withstand the test of time.
With adverse knowledge, our renovation team can help you to think and guide from consultation to project management. i-Chapter provides wide a range of competitive interior renovation in Singapore, for all sorts of residential and commercial spaces. We believe in personalised service and our dedicated team is here to answer your queries regarding the interior renovation services.
Office Renovation in Singapore
Every aspect of a business needs to be optimized for it to stand out today; interior design is part of the long list of priorities. If you look at the commercial interior design concepts adopted by offices in Singapore over the past years, it is clear that businesses are starting to step up their game in terms of making the office a conducive environment to work in. A well-designed interior can make or break your business, as it determines many factors including the motivation and work productivity of employees, efficiency of the operations, communication flow amongst the various departments involved, etc.
What if your office interior is not well designed? Don't worry, i-Chapter, one of the top interior renovation companies in Singapore, can fix it for you. Our interior renovation services are designed to give your office interior a completely new look that befits a modern office setting. Also, our designs are made to last, meaning that there won't be a need for another interior renovation for the next 5 years to come at least, even in the ever-changing interior design environment.
House Renovation in Singapore
With property in Singapore being one of the most expensive commodities, we want to ensure that you get the most value out of your purchase. Whether you have a 3-room flat or a BTO, we can provide the house of your dreams. We take on every house interior renovation project in Singapore with gusto, no matter how big or small the scale is. When we renovate every house interior, we'll take into account your needs, preferences, and likings to ensure that the end result exceeds your expectations. With our house renovation team guidance, we know how to perfectly balance these factors cleverly to protect your best interest. As an interior renovation company in Singapore, our mission is to create interiors that leads to inspired living for every homeowner. To us, what is most important is the impact that we leave behind and the lives we change as a result of our home interior designs.
Contact us today to engage our interior designers for your interior renovation needs, either for your home or office.