Commercial Interior Design
Many Singaporeans spend majority of their time at work inside an office. Ask anyone working in an office and they will tell you that the office layout and environment play a pivotal role in impacting their morale which, in turn, affects their work productivity and quality. Therefore, a good office interior design in Singapore should not only be functional and stylish, but also provide a conducive work environment that promotes creativity, productivity, and positive vibes amongst the staff.
As one of the proven commercial interior design firms in Singapore, we thrive to transform your office space into a creative one that reflects your corporate values and beliefs. At i-Chapter, we pride ourselves on our knowledge and experience in creating you the office space you would love to work!

812C Choa Chu Kang Avenue
Condo | 03 March 2019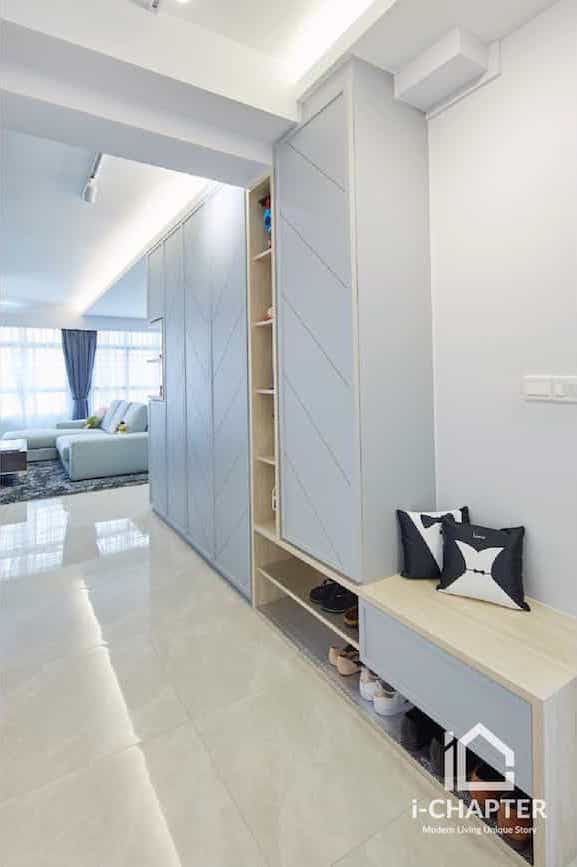 The Corporate Interior Design Landscape in Singapore
There are basically three types of corporate interior design layouts that are typically seen in Singapore which are cellular, open, and co-working office layouts. Each carries their own set of pros and cons, hence you should choose one that fits the nature of your business and corporate culture best. Determining the right layout for your office is more important than you think as it enables employees to complete their assigned tasks and meet their personal and organizational goals in a more effective manner.
For example, a cellular office layout is where the entire floor space is divided into individual spaces or cubicles – by using stud ceiling partitions, windows, doors. This design plan promotes privacy and a more focused working environment where the individual can concentrate better and choose to operate their work however they want. However, this design plan tends to consume a lot of space, making it unsuitable for compact offices with limited space. Moreover, due to the enclosed and private environment of cellular office layouts, verbal communication amongst the staff can be restrictive – not ideal for creative agencies which undergo constant discussions and brainstorming exercises.
Office Interior Designs – The i-Chapter Way!
As one of the leading commercial interior design firms in Singapore, we at i-Chapter aspire to change the corporate interior design landscape in Singapore by creating stylish, functional, and conducive office design plans that bring out the best in everyone. Before we propose a design plan, we'll take the effort to understand the nature of business, your corporate culture, and the specific needs that you require. Every business is different and unique, thus we believe that there is no one-design-fits-all corporate interior design that can be applied to every workspace in Singapore. Therefore you won't be needing an interior renovation for your office for next few years!
Whether you are looking for an open space setting or a cellular layout, we have the interior designers to turn your office into a space which promotes work productivity, improves employee morale, and reflects company culture. Our corporate interior design concepts are suitable for businesses that seek to thrive in modern Singapore. Businesses that choose our commercial interior design services also recommends us to their employees for our home interior designs services.
Contact us today for a consultation regarding commercial interior design needs of your corporate office.